It was a Friday night, August 23, 1871, when several families came together to talk about starting a church in the Fortville area. The next day, N.A. Walker, an elder from a church in Indianapolis met with the group. They decided to have an evangelistic meeting at the Levi Thomas Grove, to begin the very next day and run for two weeks. At the end of two weeks, the church had a membership of 45 believers.
The founding minister was J.W. Ferrell. He served for several years and helped organize the Sunday School program in 1872. This very young church decided they needed a church building. The entire community came together and helped frame a structure, which cost $1,400. It was completed and dedicated on the 3rd Sunday in June, 1872.

By 1900 growth spurred a need for a larger building. The brick church building at 10 West Church Street in Fortville was constructed. Continual growth made it necessary to add on in 1926, 1943 and 1959. In 1966, Mary Rushton and her family donated six acres of land from a field about one mile south of Fortville. A new 22,000 sq. ft. building was constructed for $250,000. Services began in the new building on New Years Day, 1967. Gilbert Schrieber was the Senior Minister at that time. Then in 2000, under Senior Minister Pat Mooney, the building underwent major remodeling and the addition of children's classrooms and offices took place at the cost of $1,600,000.

In 2012, under Lead Pastor Rob Rigsbee, the 33 acres surrounding our current property were purchased for $365,000. Today that land is paid off and plans are being made for our future ministry. Fortville Christian Church continues to seek God's direction for growth. May God bless us as we continue to be faithful to Him as the history of FCC is written.
Revealing Jesus Through Teaching, Community, and Service
it's about a relationship
We are created for daily, intimate time at Jesus' feet. Fostering an authentic, personal relationship with Jesus takes an every day commitment. It should be the desire of every follower of Christ to have a personal, intimate, daily experience at the feet of Jesus. This means intentionally spending time each and every day in prayer, in worship, and in God's Word. Spending this consistent time with Jesus, both listening to Him and talking to Him, is where God will daily mold your heart into a heart like His.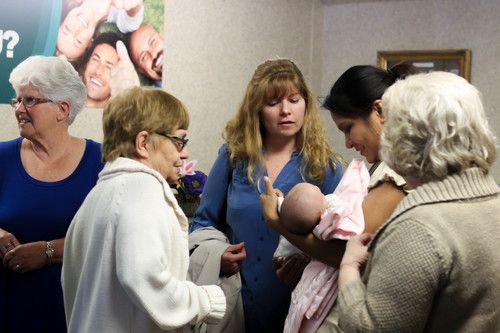 We are created for community, for care, and for accountability. The New Testament encourages us to live in community with each other. This means accepting and forgiving one another, loving and serving one another, even bearing one another's burdens. Jesus modeled this when He chose to live closely connected to twelve men He called disciples. We believe that choosing to live closely connected to and accountable to a small group of believers will better allow God to do His transformational work in your life.
Saved People Serve People
We are created to use our gifts to point others to a relationship with Jesus. God redeems our lives so that we can be used for His purposes...to bless people. God gives special gifts to each believer and when we use those gifts to bless people it brings glory to God. You were saved and given a new nature so that you can shine God's light and love into other people's lives. If you are a believer, then God has gifted you to be an agent of His grace. In Him your life has a new purpose. Every day you're called to be the hands and feet of Jesus to those who need His love and grace more than ever.
FCC's future is bright with the light of Jesus. We believe that the local church is the hope of our community and of the world. FCC has 40 acres of property that has been paid off. As soon as it was paid off in November of 2017, we began dreaming about what God wants to accomplish on this ground within the Fortville community. Below is video explaining how earlier this year the Elders appointed a Vision Team to dream and to plan.
FCC's Vision Team is still gathering ideas for the use of our surrounding property. Please share in the dream of FCC's future by giving any ideas you may have for the use of the surrounding property keeping in mind these two criteria:

1. First and foremost, whatever we decide for this land, it must be used as an opportunity for ministry
2. It should be a source of income generation which will allow us to become more sustainable as a church while being able to pour more resources back into our local and global ministries

Even if your ideas seem to be irrational or unattainable, we would still like for you to share them. Thank you for your participation in the dreaming process!
Several months ago, FCC wanted to share some of the dreams we had for the property and invited Eric Bahme from MBS Solutions (Missions Based Sustainability) and consultant to BGW (Building God's Way) to talk about our future. The plans we proposed had several possibilities. One possiblity is an event center for the Town of Fortville. Another possibility is sports performance center along with a community center. Another possiblity is an assisted living facility and a 55+ residential community. Another possibility is a children's daycare along with some possible retail/office space. All of these would bridge relationships and create service opportunities for our church to engage our community while creating sustainable income that can be used for Christ's mission and purpose in Fortville.
Meeting with Eric Bahme, President of MBS Solutions
Possible Layout of Some Ideas for FCC's Future
The Bible is the written,
inerrant word of God.
We believe the 66 books of the Bible, in both Old and New Testaments, are given by God's inspiration and that in the original writings they are without error. We believe the Scriptures originated with God but were written using humans as the means and thus speak with the authority of God while reflecting the backgrounds, cultures, styles, and vocabularies of the human authors. They are the unique, reliable, and the final authority on all matters of Christian faith and practice.
God the Father is
the Creator of all things.
We believe in One God who reveals Himself to mankind in three persons: the Father, the Son Jesus Christ, and the Holy Spirit. We believe that God the Father existed before all things. He is the Designer and Creator of the universe both seen and unseen. He is all-loving, all-knowing, all-powerful, infinitely perfect in every way, and never changing. He is the One who sustains life and He devised the plan that allows us to come to Him and establish a personal relationship.
Jesus Christ is
the Son of God.
John 1:1-2; 19:1-42; 20:1-31; Hebrews 4:15
We believe that Jesus Christ is fully God and, in His incarnation was also fully man; having been conceived of the Holy Spirit and born of the Virgin Mary. We believe that Jesus died on the cross as a sacrifice for our sins according to the Scriptures. We believe He was raised from the dead, ascended into heaven, and now acts as the only mediator between God and people.

The Holy Spirit lives
within the believer today.
We believe that the ministry of the Holy Spirit is to apply to people the saving work of Christ. He does this by bringing conviction of a person's need for the forgiveness of Christ. He regenerates their heart and then indwells them when they believe and are baptized. His ongoing work is to guide, lead, protect, comfort, instruct and empower the believer for godly living and service. To aid in Godly living and service God provides His followers with spiritual gifts. These gifts are uniquely given so that each member can serve effectively in an area of God's choosing, consistent with His calling upon the believer's life, and in manner that builds up the body of Christ and edifies other believers. All spiritual gifts must be used to edify Christ and His church, not the individual members.
Mankind is sinful yet redeemable.
We believe that people were created in the image of God for a loving relationship with God in His eternal Kingdom. However, beginning with the first man & woman (Adam and Eve), we have all rebelled against God and chosen to go our own independent way. Mankind is thereby alienated from God and now suffers the corruption of our nature because of our sin. The effects of this fall upon our intended relationship with God can only be reversed through faith in Jesus Christ, the power of the Holy Spirit, and life in God's eternal Kingdom.
God offers
forgiveness of sins through Jesus Christ.
We believe that Jesus Christ died on the cross to save us from the eternal penalty of our sin – separation from God. No amount of good works or human effort can restore us from our state of eternal alienation from God. It is only by God's grace that we are saved from this state of alienation, and this grace is appropriated by a change of heart toward God's authority in our lives and by faith in Jesus to forgive our sins. We see that the Biblical pattern for expressing one's personal decision to place faith in Jesus Christ and turn from sin involves surrendering one's life to Him by turning away from sin, professing faith in Him, and being baptized in water by immersion, which re-enacts the death, burial and resurrection of Christ.
The church refers to
people, not buildings.
We believe that there is only one true Church universally composed of all people who have been regenerated and forgiven by Jesus Christ. We do not "go to church," but rather the church comes together to worship the Father and the Son, while being led by the Holy Spirit. It is reflected by a diversity of believers working and serving together, using their gifts to build one another up, forming the parts of the body of Christ, the Church. Scripture commands believers to gather together in local congregations for the scriptural teaching of the Word, fellowship, prayer, mutual encouragement, worship of God, and disciple-making. We believe that Jesus Christ is the Lord and Head of the Church, and that every local church has the obligation under Christ to decide and govern its own affairs in obedient submission to the will of God, the Word of God, and the Spirit of God.
The future holds
the return of Jesus Christ.
John 3:36; 1 Thessalonians 4:13-15
We believe that we must be united in key areas related to our understanding of the end times: 1) the resurrection of the dead, 2) a literal return of Christ, 3) the final judgment by God, 4) Hell, and 5) Heaven. We believe people will either exist eternally separated from God by sin, or eternally with God through forgiveness and salvation. To be eternally separated from God is eternal death in Hell. To be eternally in union with Him is eternal life in Heaven. Heaven and Hell are real places of eternal existence. Beyond our acceptance of the key biblical truths described above, a discussion of the "end times" is not a salvation issue and should in no way hinder the Lord's work in and through His Church.
Transformed lives are salt and light to the world.
Romans 12; Galatians 5:16-26
We believe that the distinguishing characteristic of those who live in God's Kingdom is Christ-likeness. Discipleship is the fundamental ministry of the local church which facilitates the development of such people. Love for others displayed in ministering to the poor, reaching out to people who are spiritually lost, serving others, practicing forgiveness, and the like are all signs of the presence of God's Kingdom and ministry of the Holy Spirit. Those with genuine faith are known by the fruit of their lives and their pattern of faithfulness to Jesus and His commandments. Thus, the local church becomes a counter-culture community, whose members live Christ-centered lives that transform communities.